A robust online presence is essential for business success in today's digital era.
To remain competitive in your industry, a software development agency can assist you in developing and maintaining the necessary technology. One significant advantage of partnering with the Best custom software development California is their ability to create custom relationship management software solutions that meet your business requirements.
This includes everything from websites and smart mobile apps to internal software systems.
Leading software development companies in California, offering web app design services, specialize in crafting unique software solutions tailored to each client's needs. Their self-managing, robust, scalable platforms and solutions support various technologies and processes.
What is e-commerce Website Development?
E-commerce website development is the process of creating and maintaining websites or online platforms where businesses can sell their products or services to customers over the Internet.
It involves the design, development, and optimization of websites or online stores to facilitate online transactions and provide a seamless shopping experience for users.
E-commerce web development can be a complex and ongoing process, as businesses continually strive to improve their online presence, enhance user experiences, and adapt to changing market trends and technologies.
It requires collaboration between web developers, designers, and digital marketers, and often involves ongoing maintenance and updates to keep the online store competitive and secure.
E-commerce Web Development Examples:
Amazon
eBay
Walmart
Shopify
WooCommerce (WordPress)
Magento
Alibaba
Etsy
Zalando
ASOS
E-commerce Web Development Tools:
Content Management Systems (CMS):
WordPress with WooCommerce
Magento
Shopify
BigCommerce
Drupal Commerce
Website Builders:
Development Frameworks:
Laravel
Ruby on Rails
Django
Angular
React
Payment Gateway Integrations:
PayPal
Stripe
Square
Authorize.Net
Braintree
E-commerce Plugins and Extensions:
WooCommerce plugins
Magento extensions
Shopify apps
E-commerce Website Development Requirements:
In e-commerce website development, you must have a well-structured product catalog with comprehensive descriptions, images, and prices. Integration of secure payment gateways is crucial to enable smooth online transactions.
Additionally, user accounts, including registration, login, and profile, management are essential to enhance customer engagement and loyalty.
E-commerce Website Development Process:
The e-commerce website development process involves meticulous planning, where goals, budgets, and target audiences are defined, followed by the creation of layouts and features in the design and development phase.
Thorough testing for functionality and security precedes the website's successful launch, ensuring a seamless online shopping experience for customers.
Custom software development California agencies can help businesses integrate the latest development trends to enhance their user offerings.
Our team has extensively researched web development skills, employee count, work experience, client reviews, and other relevant factors to identify the most reliable software development partner.
They have compiled a list of California's nine best custom software development agencies in 2023.
Why is custom software development important?
Businesses can find many online software for their software development but they can't modify it to their own uniqueness. Custom software development is important because it allows businesses to have software specifically tailored to their unique needs and requirements. Off-the-shelf software may not have all the necessary features or functionalities that a business requires, and it may not integrate well with existing systems.
It provides the opportunity to address these gaps and create a solution that aligns perfectly with a business's processes and goals, gain a competitive edge by offering unique functionalities that differentiate them from their competitors.
It also enables businesses to adapt and scale their software as their needs evolve, ensuring continued efficiency and productivity. Overall, custom software development plays a vital role in optimizing business operations, improving productivity, and enabling growth and success.
9 Best Custom Software Development Agencies in California
1. BlueZorro: Software Development Solutions in California
BlueZorro prides itself on a strong company culture that prioritizes the customer. Our history is delivering exceptional customer service and results-driven solutions that maximize ROI.
At BlueZorro, we deliver technology solutions tailored to our clients needs and prioritise user experience.
With a focus on embracing new technologies, including android app ideas to reality, we deliver cutting-edge solutions that effectively tackle challenging technology obstacles, driving business success. Our team stays up-to-date with the latest trends, ensuring we provide clients with the best possible solutions that meet their unique needs.
At BlueZorro, one of the best software consulting companies, we believe in creating customized technology solutions to meet your specific needs, including quality assurance tests. We work closely with you, understanding your goals and challenges, to recommend personalized solutions that guarantee quality and satisfaction.
Our customer-focused approach is collaborative, ensuring you receive the best possible outcome.
So why should you opt-in for BlueZorro as your choice software development agency in California?
With more than ten years of experience, we've successfully managed offshore offices worldwide. Our expertise in this field is unmatched, allowing us to provide top-notch services to our clients.
Our software company in California offers robust in-house employee development programs. These programs are designed to help our employees grow and develop professionally. We take great pride in our commitment to investing in our team members' career development.
Our contracts are designed with performance in mind, and we prioritize goals and flexibility. We strive to create agreements that are mutually beneficial and encourage success.
Project minimums for the company start at $30k and vary depending on the project's complexity.
The cost of a mobile app, Web Application Development in California, or software project is heavily influenced by its complexity.
Our software company in California employs a team of experts with a broad range of skill sets, including product consultants, AWS implementation consulting, UI/UX designers, and developers.
BlueZorro Software Development Solutions initiates an in-depth discovery phase specific to each project to provide accurate estimates.
How does BlueZorro estimate the scope and pricing for software product development services in California?
We can't estimate if we don't understand. First, we need to understand what's driving your project. We want to know why you need custom software so we can craft the best solution for your company. We'll define or gather requirements based on what you want to achieve.
Our Software House California team will have conversations with yours to ensure we're on the same page.
Once we have a document of requirements called a Scope of Work, we'll use it to estimate the entire project. We'll draw on our expertise to come up with realistic numbers. Finally, we'll put the Scope of Work and estimate into your proposal.
Our team of software development experts for California-based businesses have worked with a wide range of international conglomerates, including Cisco, Verizon, Citi, T Mobile and Intel.
Reach out to our team of experts here, and we'll be happy to understand your project requirements and expectations from an ideal custom software development company in California.
Want To Know Which Platform Will Suit Your Next Mobile App?
Get in touch with our experienced and top-rated business specialists to ask which platform will suit you the best.
2. WildBeest: Custom Software Development Firm California
WildBeest teams specialize in enhancing software to achieve greatness by understanding clients' perspectives and creating tailored solutions.
They welcome clients who require a committed development team for continuous support and, at times, project-based work.
Wildebeest provide elite teams to enhance software development and create transformative products that accelerate businesses and empower individuals.
Ran Craycraft and Kevin Ng established the company in 2014, focusing on custom software development for products and platforms.
Their dedication to the principle that software is the most potent medium has earned them numerous awards and industry recognition as they continue to build products that give power to people's lives.
3. Saritasa: Software Development Company California
Saritasa offers custom development solutions for Californian-based businesses for web apps, web applications, and desktop solutions. They provide front-end, back-end, database, and server solutions.
Their clients own the source code without fees or strings attached upon project completion. The development team comprises vetted and trained members who keep everything in-house.
The team values in-person interactions and face-to-face problem-solving for successful project completion. They believe in transparency and building long-term partnerships with their clients.
Updates on the project status, budget, risks, timelines, and blockers are communicated to clients regularly, with updates at their discretion.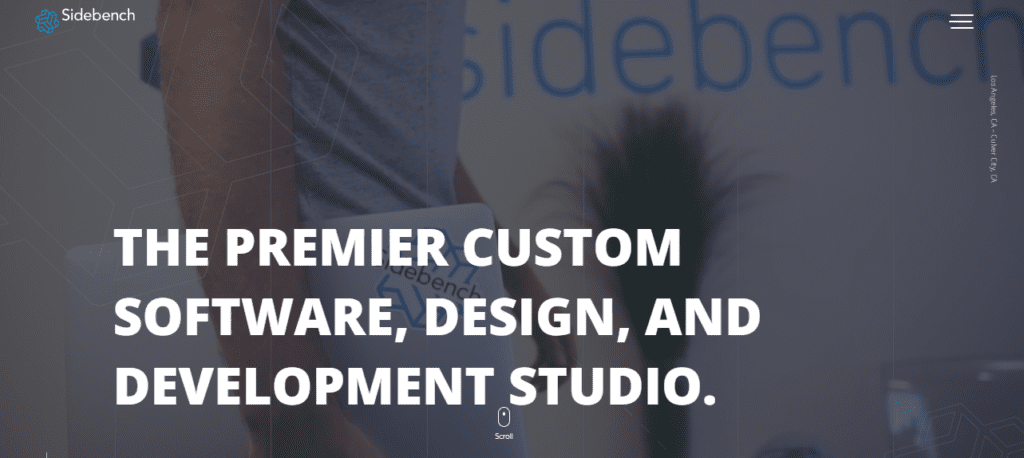 Sidebench is a company that specializes in UX design, web apps, and custom software development. They are based in California and have won awards for their work.
This top software agency from California has a team of digital strategists, technologists, and thought leaders who work together to invent the future.
They have experience working with various industries, including healthcare providers, consumer brands, and government entities.
Their goal is to transform the way humans interact with technology and make a lasting impact on entire industries.
In the strategy phase, Sidebench works with clients to create a plan of action for their business idea.
They use engaging activities and workshops to uncover strategic opportunities.
During discovery, designers conduct user research, create wireframes, build designs, and perform user
testing to ensure that users will love the product.
In the development phase, Sidebench turns designs into a reality using best practices and several sprints.
The result is a live product ready for use by the client or their customers.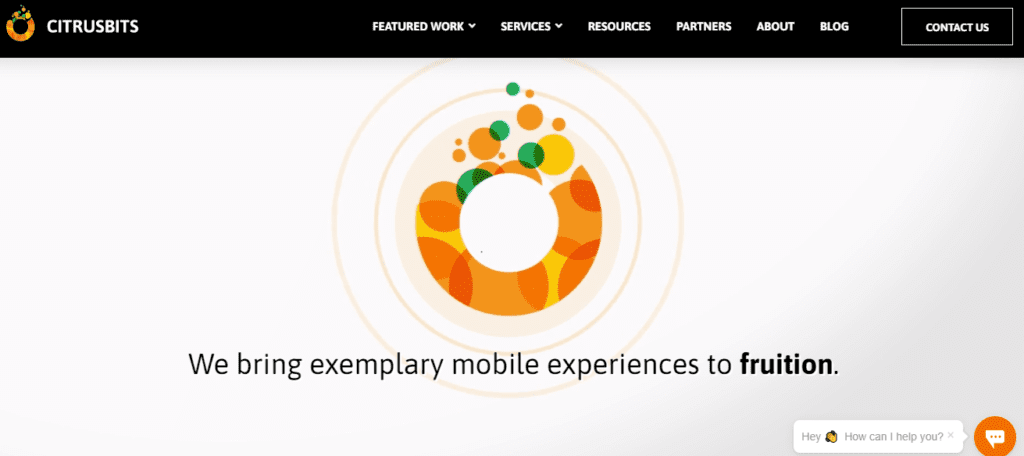 CitrusBits has expertise in end-to-end mobile app development.
Their services include ideation, UI/UX design, and web app development. They prioritize product strategy and design a plan that fits the business environment.
Their digital product strategy combines business requirements, research, software testing, recommendations, roadmaps, and timelines.
CitrusBits is a creative design agency based in Los Angeles and San Francisco.
They offer branding, designing, and campaign development and management services. They transform scattered ideas into life with logos, brand styling, and video production.
They have a network of creative architects, designers, and brand managers.
CitrusBits transforms the traditional engagement approach to digital engagement through its industry-proven digital strategy.
They help companies reimagine, build, and deploy online and offline interactions to engage customers. They create customer experiences and help businesses realize their full audience potential.
CitrusBits is a renowned growth hacking and marketing company. They help startups and enterprises overcome unrealistic KPIs and spot growth opportunities.
High-growth startups and leading international brands trust their growth hacking services.
TheoremOne creates tailor-made technology for enterprises.
They use technology as an enabler to build new lines of business.
The company advises clients on product strategy, engineering, design, and culture. They partner with clients to build and launch technology-driven solutions.
TheoremOne collaborates with key stakeholders, including IT, the business, leadership, and customers, to rapidly deliver impact and tangible results.
Their process focuses on outcomes, not just deliverables. TheoremOne is an innovation partner for those who value experience.
They deploy expert practitioners in tailored squads to help clients realize big ideas, rescue failing projects, or modernize old working methods with next-gen technology.
Serokell is a custom software engineering company that creates innovative solutions for complex problems. Their team comprises developers, designers, engineers, computer scientists, and mathematicians.
Their connections with academia and research labs allow them to leverage the latest innovations to make fast, scalable, and secure products.
Serokell's unique choice of technologies and approach to software development creates solutions with fewer bugs and security vulnerabilities, saving clients money with software that is shipped faster and requires less maintenance.
Their innovative hiring process features a test task and interviews with team leads to ensure they select top-tier talent for their clients' tech projects.
Serokell has excellent ratings on various B2B review platforms, and their developers have been rewarded at contests like the Telegram blockchain contest. They assign each project a C-level executive to ensure their team meets clients' business needs.
Serokell's employees are working on several open-source projects that developers love, and they frequently visit conferences and sponsor the growth of new IT students.
Customers seeking custom software solutions for their businesses can turn to Endertech.
Unlike other software developers who want clients to fit into pre-built templates and frameworks, Endertech offers flexibility and options tailored to individual needs.
Endertech listens to customers and works with them to develop unique and special solutions. Whether customers need help with simple edits or custom software, Endertech is ready to help.
Endertech isn't afraid to say "no" when it's the right thing to do.
Given current technology, they often turn down requests for cool features that haven't been beta-tested or aren't practical.
They aim to help customers conserve time and money while producing the best solution.
Endertech is more than just a software developer – they're a trusted business partner ready to share their expertise and guide customers to make the best choices.
AE.Studio is a development, data science and design studio that works with founders and executives to develop custom software, machine learning, and BCI solutions.
Their developers work in agile teams and utilize best coding practices to create web and mobile products.
The company provides full-service product design and development, with the option to act as a CTO or integrate into existing teams. The project managers employ agile processes to produce innovative products, collect user feedback for insights, and suggest market strategies.
In addition, they provide services such as conducting user interviews, achieving product/market fit, creating effective metrics, and putting together an investor deck.
So which Custom Software Company in California should you go ahead with while shortlisting a tailored software development agency?
Choosing the right custom software company in California can be daunting, as there are many factors to consider.
Firstly, you should look for a company with a proven track record of delivering high-quality software solutions.
This can be achieved by researching their portfolio of previous work and reading customer reviews.
Secondly, you should ensure that the company has a team of experienced developers who deeply understand your business needs.
Thirdly, you should look for a company that offers competitive pricing and has a transparent pricing structure.
Finally, you should choose a company committed to providing excellent customer service and support throughout the software development process.
By considering all of these factors, you should be able to find the right custom software company in California for your business needs.
Want To Know Which Platform Will Suit Your Next Mobile App?
Get in touch with our experienced and top notch business specialists to ask which platform will suit you the best.
FAQs – Custom Software Development Agencies in California
What is custom software development?
Do you know what custom software development is? It's designing, creating, deploying, and maintaining software for specific users, functions or organizations. Unlike commercial off-the-shelf software (COTS), custom software development focuses on a narrowly defined set of requirements.
Where is the software made in California?
Do you know where software is made in California? Well, Silicon Valley is the place to be. It's a region in Northern California that serves as a global centre for high technology and innovation.
Why choose custom software development?
Developing custom software is the way to go if you want to own the solution. You can control the software functions, data, and development methodologies. With customized software, you can make changes, add essential information, and implement customer feedback.
Is California an IT hub?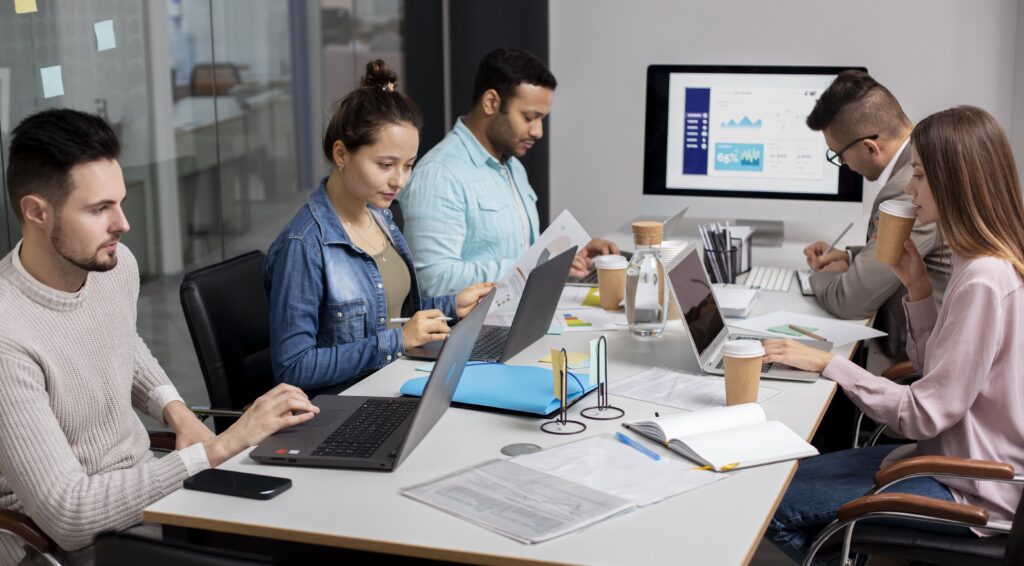 You may already know that Silicon Valley is a global centre of technological innovation. It's located in the South San Francisco Bay Area of California and is named after the main material in computer microprocessors. Seven significant technology, software, and internet companies call Silicon Valley home. BlueZorro is one of the best custom software development agencies in California!