Web design outsourcing carries mixed reviews all over the world.
Companies that know what they're doing – hire the right people with expertise and skill. As a result, these businesses have nothing but praise for outsourced website development.
Others, such as small businesses or new ones with little to no experience, have mostly negative reviews about web designing projects outsourcing.
And it's for good reasons too.
In the wrong hands, web design outsourcing comes with tons of issues. Start with delayed communication, miscommunication on commitments, and delayed turnover dates as compared to what was promised initially and vice versa. The list could go on.
The worst of all is finally having a finished "product", but it doesn't work as intended. Bugs are popping up everywhere, technical, and functional issues and whatnot.
That's all the more reason why outsourced website development is kept in-house. However, when such projects as assigned to expert software consultants and a development team, things fall into place.
So, here's the million-dollar question: are we here to advocate in favor of web designing projects, or not?
The truth is, we are very supportive of anyone contemplating outsourced website development. As long as you have solid service providers to back it all up, there's no stopping your web presence through spectacular web designing projects.
And if that's not reason enough to convince you to try web design outsourcing, here are some factual eye-openers.
Almost 78% worldwide online businesses feel optimistic about outsourced website development
Half of the aforementioned 78% of businesses are of the view that website outsourcing helped them to create a better product than what an in-house team could have done
And finally, over the last few years, worldwide outsourced website development projects have cited an increased revenue of $93 billion approx.
That being said, this post highlights different aspects of web design outsourcing, how to go on about it, and the dos and don'ts of getting accurate results on outsourced website development.
Let's get started.
Benefits of Outsourced Website Development That You Need To Know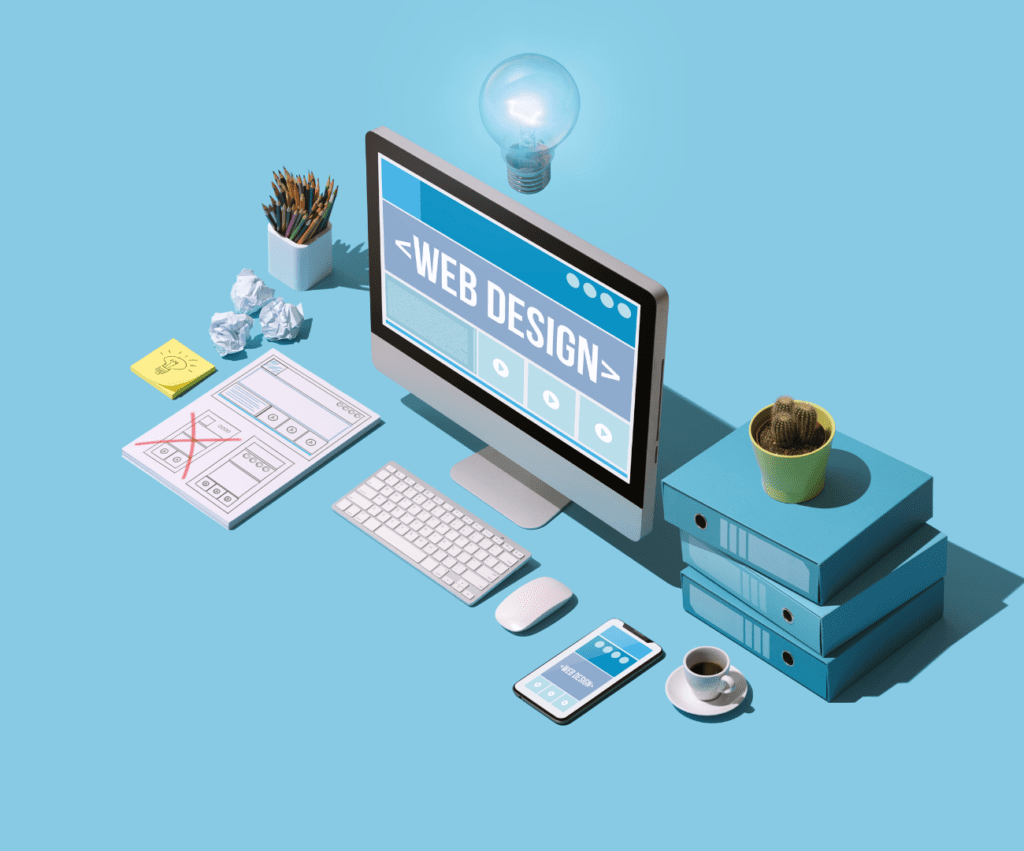 The term: to outsource web design refers to the process of hiring an external company or team to design, develop, and maintain a website for your business or organization.
As we said earlier, it is an effective strategy for many companies because it allows them to focus on their core competencies and leave the technical details of website creation to a third party.
But then again, there's a case in point: you need to be careful of who you hire for the web designing projects; even if it's a baseline level company's website for your business.
Moving on, there are several benefits to outsourcing website development:
Cost Savings:
Outsourcing website development can be cost-effective as it eliminates the need for in-house staff to develop and maintain the website.
This means that companies can save money on salaries, benefits, training, and equipment.
Access to Skilled Professionals:
Web design outsourcing allows you to access a team of skilled professionals who specialize in web design, development, and maintenance.
These professionals have the knowledge and experience to create a website that is user-friendly, visually appealing, and optimized for search engines.
Faster Time-to-Market:
By outsourcing website development, you can get your website up and running faster than if you were to develop it in-house.
This is because the outsource web design team has the resources and expertise to complete the project quickly and efficiently.
Scalability:
As your business grows, so will your website.
Outsource web design activity allows you to easily scale your website to meet your changing needs. This way you can add new features, functionality, and content as your business evolves.
Focus on Core Competencies:
Outsourcing website development allows you to focus on your core competencies and leave the technical details of website creation to a third party. This means that you can devote your time and resources to areas that are critical to your business success.
Risk Mitigation:
Web designing projects, when outsourced, can help mitigate the risks associated with website creation.
The main reason is that the outsourced team has the expertise to identify potential risks and implement measures to prevent them.
How To Get Started With Web Design Outsourcing The Right Way?
Outsourcing can provide several benefits, such as cost savings, access to skilled professionals, and faster time-to-market.
However, it is important to get started with web design outsourcing the right way to ensure that you achieve your goals and avoid potential pitfalls.
The following steps to outsource web design are to be taken as general advice. Depending on your industry vertical, or your business requirements, feel free to improvise for the best results.
Define Your Project Requirements:
Initially, at the start of each project, it is essential to define your project requirements.
This process typically involves identifying the purpose of your website, target audience, desired features and functionalities, and design preferences.
A detailed project brief can help the outsourcing team understand your requirements and deliver a website that meets your expectations.
Identify Potential Outsourcing Partners:
To find the right outsourcing partner, you can search online, ask for referrals from your network, or work with a staffing agency.
Look for outsourcing partners who have experience in web design, development, and maintenance, as well as positive reviews and a portfolio of successful projects.
Evaluate Outsourcing Partners:
Once you have identified potential outsourcing partners, you should evaluate them based on several factors, such as their expertise, experience, communication skills, pricing, and cultural fit.
You can conduct interviews, review their portfolio, and ask for references to make an informed decision.
Create a Contract:
Once you have selected an outsourcing partner, it is important to create a contract that outlines the scope of work, project timeline, deliverables, payment terms, and dispute resolution mechanisms.
A contract can help clarify expectations, prevent misunderstandings, and protect your interests.
Establish Communication Protocols:
To ensure smooth collaboration with your outsourcing partner, you should establish communication protocols that specify the frequency, channels, and methods of communication.
Regular communication can help you stay informed of the project status, provide feedback, and resolve issues in a timely manner.
Monitor Progress and Quality:
Throughout the outsourcing process, you should monitor the progress and quality of the work to ensure that it meets your standards.
This entire practice can involve reviewing drafts, conducting user testing, and providing feedback. Regular monitoring can help identify potential issues early on and prevent delays or rework.
Where To Find Web Design Outsourcing Projects?
Outsourcing web design projects can be a cost-effective solution for small businesses and startups that may not have the resources or expertise to design and develop their own website.
This is the most critical part of the entire outsourcing thing because if you're working with an incapable service provider, your website is doomed at best. In the best-case scenario, even if that service provider turns over a website that looks just like the MVP, it won't work the same way.
Unskilled website designers and developers have the tenacity to maintain the visual aspects of the website as per their clients' expectations, sans the technical and functional features.
As a result, even though, the website may look like everything you hoped for, it'll come with tons of bugs that won't be simple to fix.
Here are some places where you can outsource web design projects for your small business or startup:
If you are a small business owner, or anyone looking to have a website created, Blue Zorro can help you out.
Although the company's been recently incepted, they have a strong team with years of experience in website development, web app development and design , DevOps, product creation, and vice versa. 
On top of that Blue Zorro has incorporated strong cultural values that help the entire company to stay aligned with their client's expectations.
Over the last few years, they've worked with multiple startups, alongside many popular companies to satiate any incoming web designing projects' requirements.
Freelancing Platforms:
Moving on, freelancing platforms like Upwork, Freelancer, and Fiverr offer a wide range of web design services at affordable rates.
These platforms allow you to post your project requirements and receive proposals from freelancers or agencies. You can evaluate the proposals based on factors such as experience, portfolio, and pricing, and choose the one that meets your needs and budget.
Design and Development Agencies:
Design and development agencies can provide end-to-end web design services, from concept to launch.
They have a team of professionals who specialize in different aspects of web design, such as UX/UI design, front-end development, and back-end development.
You can search for agencies that specialize in web design for small businesses or startups and evaluate them based on their portfolio, pricing, and expertise.
Referrals and Recommendations:
Referrals and recommendations from your network can be a valuable source of outsourcing partners.
Ask your colleagues, friends, and family members if they know any web designers or agencies that they can recommend.
You can also join online communities and forums related to web design and ask for recommendations.
Freelance Web Designers:
Freelance web designers can provide personalized attention to your project and often have lower rates than agencies.
You can search for freelance web designers on platforms like Behance, Dribbble, or LinkedIn, and evaluate them based on their portfolio, experience, and pricing.
Offshore Outsourcing Companies:
Offshore outsourcing companies can offer web design services at lower rates due to lower labor costs in their countries. 
You can search for offshore outsourcing companies in countries like India, the Philippines, or Eastern Europe and evaluate them based on their portfolio, expertise, and communication skills.
What To Look for In An Agency When Outsourcing My Company's Website Development?
When you're considering outsourcing your company's website development, it's important to look for an agency that can meet your specific needs and requirements.
Here are some key factors to consider when choosing an agency:
Experience and Expertise:
Look for an agency with a proven track record of successful website development projects.
Consider the agency's portfolio of past work to see if they have experience working with businesses similar to yours, and if they have expertise in the specific areas you need.
Services and Specializations:
Consider the range of services offered by the agency and whether they align with your needs.
If you need more than just website development, look for an agency that offers additional services such as digital marketing, AWS implementation and consultation, CRM Implementation, SEO, or e-commerce solutions.
Communication and Collaboration:
Clear communication is key to a successful outsourcing relationship. Look for an agency that values collaboration and keeps you informed throughout the development process.
Project Management and Delivery:
Consider the agency's project management process and the timeline for delivery. Look for an agency that can provide a detailed project plan and timeline, and that has a process in place for addressing any issues that arise during development.
A good agency will ensure the quality of the website through thorough testing and debugging before launch. Additionally, they should provide ongoing support to ensure the website is functioning properly and to address any issues that arise post-launch.
Conclusion:
Overall, we'd say that web designing projects and the activity of outsourcing website creation is a spectacular experience.
Don't be intimidated if it doesn't go right the first time with a service provider. If you have a contract in place, you can always stop any new development before it takes a toll on the cost factor.
Other than that, if you have already outsourced your company or business's website design project before, we'd love to hear from you. Feel free to reach out to us to fill us in on your expectations going forward.
Good luck out there!